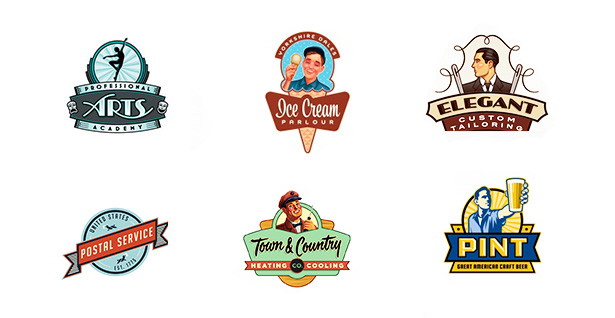 If someone is looking for a unique logo, we recommend Vintage Logos. Why? Today this type of design is popular among businessmen. We create excellent vintage designs for any types of business. The logo says many things about a business. This provides a special appreciation for the audience for the company's identity. The concept of vintage logos is the confidence and wholesome. We will make it resonating perfectly with the audience. Also, we will put the nostalgia sense in this design. On top of that, an art deco and vintage logo are able to communicate the longevity. In the terms of genre, it's very popular and rewarding.
We Perform a Small Research First
Our vintage branding and logo are made based on our clients' orders. We will research into their business and market. We will find out what kind of customers they are targeting. Then we will craft some concepts with our own hands. We won't make use of clip arts as the base of our work. We accept any clients with different preferences and business background. After we get the request from our clients, the team will handle the project in both professional and timely manner. We ensure the satisfaction of our clients, actually.
Once we have done the Vintage Logos, we will deliver it to the clients. We can deal with any types of the order including stationery, brochure, site logos, and many more. Vintage or retro logos are very famous these days. These provide a stylish and classy look to any concepts regardless of the business type. Basically, we provide classic settings and arrangements for the logo we create. The murky textures and a chalk effect are the basic elements that we include in the creation. We can make them both professional and casual. Plus, we put in a modern feel to those art deco logos.
The Limitless Choices
One of our popular vintage logos is badges. Having this type of logo will bring back the old times into a beautiful and cute logo. The shapes of the badges are limitless including diamonds, circles, and shields. All of them are popular due to their versatility. What about addition visuals? We can include some old designs on them as well. Basically, we work based on our client's demand. Not to mention we provide some available concepts for them to choose. It doesn't matter what kind of business they run, our logos will give a great booster for them.
Vintage Logos and are often considered as old and outdated designs. Some people even think these concepts as dull and unattractive. However, we can change the way people think about art deco logos. Today many businessmen have taken benefits from these concepts. After all, people shouldn't overlook the vintage designs. Why? Retro is very cool and it makes the audience find something they haven't anticipated before from either a product or service. Due to this reason, we are available to fulfill clients' demands regarding vintage logo creations. We are able to adapt to any needs whether it's for a small or big business. On top of that, we handle the projects in a professional manner.
Don't forget to visit our Logo Design page.