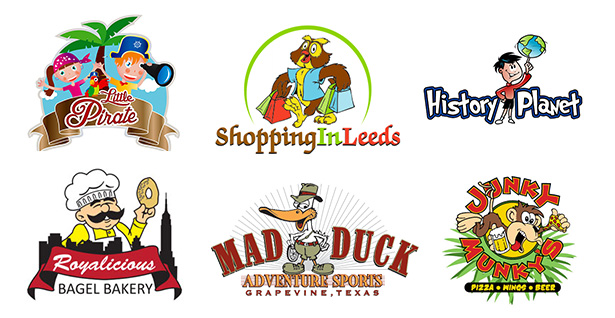 It's a relief for our clients that we also provide Cartoon Logos making. These are symbols or images that depict particular characters. The purpose of the creation is to include a positive communication in an exceptional manner. These logos aren't only appealing but funny. This means the customers can remember the company quite well. We create fun logos that speak a distinct language for the customers. We work based on both colors and expressions. Needless to say, we also include our client's profile into the concept of this cartoon logo. We provide many options including shaded and multi-dimensional impressions. After all, we won't fail to please the clients.
Role of Cartoon Logos
No matter how serious a business is, using a cartoon logo always a good thing. It gives a light manner for the public. In fact, cartoon characters are very useful to provide communication for the customers in an effective way. We believe all the people want to see a memorable logo from particular companies. Cartoon logos represent the core on governance, integrity, and compliance without overwhelming messages. We have the creativity in making mascots and characters that resemble our clients' business. Our principle is to play with people's curiosity and innocence through our unique cartoon designs. This means those people will see the message in a different way.
Our Cartoon Logos are humorous in many ways. We have different concepts and ideas, too. If our clients want to put emphasis on their virtues and culture creating logos, we will recommend mascots and cartoon designs as the perfect choices. The character's expression is our key of creation. We will create a cartoon mascot that says everything about a corporation without words. The next key is the fun. We know people become busier this day. They need a humor element to relieve the tension of life. Our cartoon logos will take care of this thing, for sure. What's more? We combine the fun and professionalism through those designs.
We Never Neglect the Quality
Once we create a cartoon logo for the clients, we can ensure the quality. The audience will get the motivation from the curiosity. Later, they will gather more information related to such company. This means the logo has become an effective and funny way to promote company's product and service. To put it simply, all corporations must try to develop a cartoon logo by using our service. We can match the mascots or characters with their company's brand. Also, we won't forget to include their philosophy inside the logo.
We have the expertise to create Cartoon Logos. Instead of hiring an expensive cartoonist, we will handle such kind of job for our clients. If a small company wants to be more popular among the customers, a cartoon logo is very important. We believe a great cartoon mascot or character can speak up 1,000 words. We will put all the efforts to create a logo that represents company's message and philosophy. The logo isn't only useful to build a strong brand but also a relationship with the prospects. Not to mention our logos are both fun and unique.