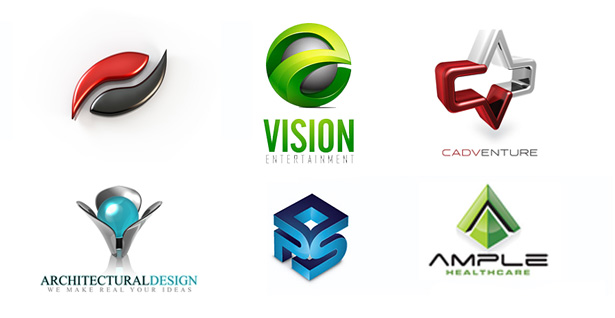 All companies, whether it's small or big, need to provide an excellent impression for the customers at the first time. 3D Logos can be good options when it comes to marketing. In this current market's condition, first impressions are important. A company can get more potential customers by creating both attractive and professional logos. What makes 3D styles popular? These logos have an increasing demand on the market. The beauty of this type of logo is the creativity. Almost all 3D concepts are outstanding and prerequisite. We as one of the best logo designers are able to provide excellently and eye-catching design for any companies.
Simplicity is the Key
We work based on simplicity. It's the core of quality, in fact. Most of the businessmen overlook the importance of simple 3D logos. This is something that people shouldn't overlook, though. We have the aim to provide the best customers' engagement for our clients. We have many ideas to realize for them. This way, the people will know immediately about what kind of business and services provided by those corporations. What makes us work based on minimalism? We want to provide the logos easier to reproduce by all companies and business. It's true that intricate designs are hard to replicate. Plus, simple 3D designs have high retention edge.
Aside from simplicity, we also make classic 3D Logos. This means our clients can get a better longevity on their logo. It's important to make the logo durable. It must withstand the test of time. Companies usually change their logo once per 5 years. It's common sense. However, we recommend durable logos that can last for decades. Most of the big companies this day retain their logos that have been on the market for years. This means we nurture the classic concept when creating the logos. What about the other aspects?
We Consider the Relevance
Well, relevance also becomes our consideration when it comes to making 3D logos. We prioritize the aesthetic value of each service and products. We try the best to create the most appealing 3D graphics ever made for the companies. Not to mention we also work on the relevance. It seems useless if there's no connection between the designs and the business. We will make both memorable and engaging logos for our clients. After all, we work based on their requests. It's quite imperative to create 3D designs that hide the core of the business. If the clients want a 3D style logo, we will create one based on purely identification purpose.
What's more? We understand the importance of detailed 3D Logos. We combine simple, brittle lines, and clean effects for this type of design. In the terms of color, we are going to minimize the combination to make the design more pleasing to the audience. Plus, our artists will mimic reality. We put the realism sense on any logos that we create. On top of that, we understand the appropriateness issues when making 3D designs. We may research client's business and match it with the logos we are going to make.
Don't forget to visit our Logo Design Service page.