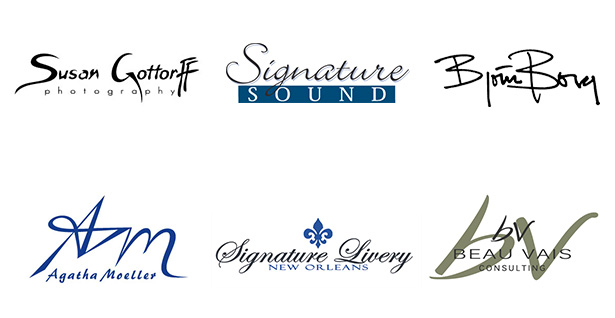 We have given lots of services regarding professional logo creation. Signature Logos making is one of our capabilities, actually. We want to encourage professionalism among our clients. We understand that corporate identity is able to boost the opportunities of getting more revenues from the market. We help our clients with the brand recognition. Nothing can compare an outstanding and professional signature logo. It must be both creative and functional. A company identity is the visual presence of professionalism and quality. This means a powerful logo may help a corporation wins more customers on the market. That's why we come as the experts to create a professional signature logo for all types of business.
We Work in a Professional Manner
An identifiable and iconic company signature is one of the keys to success. With this, the business can get recognized in targeted market. The majority of people are looking at a customized logo design. It's the part of marketing methods worldwide. We understand this matter and we will create an excellent signature logo to show both professionalism and distinctiveness. Our first key of creation is the creativity. We entail some elements such as simplicity, readability, memorability, and many others. Not to mention we will combine brilliant colors, uniqueness, and innovation. We will do the best to attract more potential customers for our clients.
The next thing that we offer is the typography. We provide complex typography and attractive signature. We focus on creating a company signature that is clear and readable. This means everyone is able to read the concept and text without hassles. For us, it's the most important point that we shouldn't ignore, at all. Next, we will work on identity standard. We know that a company must build an impressive brand image for the sake of visual identity. We try hard to satisfy the standard so we will work hard on it. This means the Signature Logos will be both useful for customers and our clients.
The Options are Endless
Next, we will personalize the name of our clients. Let's be clear about it. The options of extra touches to the marketing medium like emails are limitless. Personalized signature logos will bring lots of benefits for our clients. We provide not only typed named but also handwritten signatures. Depending on the customized orders, we will create either fun or animated signatures. We work based on our client's need, in fact. Aside from the words, we may put our clients' logo along with the signature. We can either work on it or use the design given by them.
In summary, our Signature Logos represent both professionalism and uniqueness. For those who don't have it, we come as a big help. We have the artists that can handle any types of orders. The clients have different preferences when it comes to designing a signature. We may listen to what they want so we can work in an efficient manner. We can adapt to any types of business niches, too. The prime benefit of using a professional signature logo is to provide a better exposure to the market. All business should try our services, for sure.